Welcome to Kids Kottage
Kids Kottage is based on the Main Street in Tyrrellspass and we provide pre-school, day-care and after-school care services for children aged from 9 months up to 6 years. Opened in 2010, we have a secure, interactive facility where you children can learn and develop in a fun and exciting way. Our fully trained staff have a vast amount of experience and have all received a level 6 FETAC certificate or above. All members of staff are also trained in first aid and manual handling. Our facilities include two dedicated pre-school rooms and two day-care rooms where children receive focused attention to help them learn, play and develop as well as a walled, secure back garden where children can learn and play outside.

Kids Kottage provide meals for children that are freshly cooked in our kitchen. We are able to accommodate special dietary requirements but we ask that you let us know in advance.
To Inquire About a Place at Kids Kottage, Give Us a Ring Today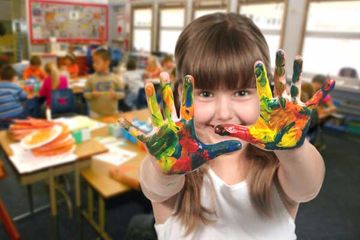 Curriculum
Kids Kottage has developed our pre-school curriculum around the principles of the Aistear Síolta programme for learning and development. We encourage learning and development in an active way whilst incorporating the children's environment into this learning experience. Our curriculum incorporates different areas of learning including arts and crafts, music, culture and much more.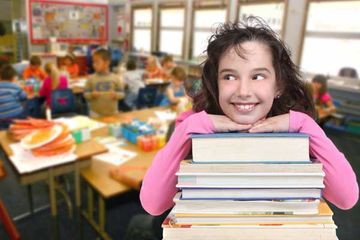 Educational Schemes
Kids Kottage are proud to take part in the Early Childhood Care and Education (ECCE) scheme. This scheme allows children to receive a free pre-school year of programme-based activities designed to prepare them for the move on to primary school and is available for all children. Get in touch with our team for more information about the ECCE scheme.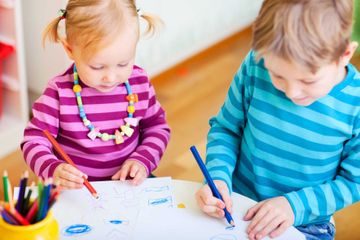 Pre-School
Kids Kottage have a 38 week pre-school service available for children from the ages of 2-5. Early childhood is an ideal time for learning and development which is encouraged through an active, stimulating environment. We understand that each child is unique and work to encourage their individual strengths and interests, with inclusivity at the heart of all that we do. Children receive regular 1-1 contact to help build strong relationships between themselves and our team members.
If you are interested in enrolling call now or fill out our contact form below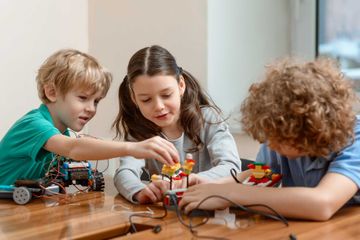 Day-Care
Kids Kottage provides a full day-care service which runs from 8am until 5.30pm Monday to Friday. This scheme is available for full-time and part-time enrolment with hot meals provided. Children are cared for by members of our fully trained staff who encourage learning and development for each individual child. We incorporate a key workers child care scheme to encourage consistency of care and use Childpath software to note children's improvements and convey these to parents.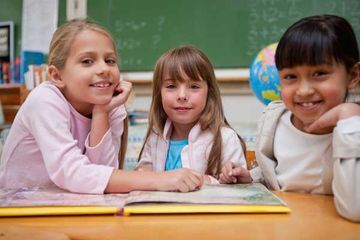 After-School
Our after-school scheme is available for children ranging from junior infants all the way up to third class. We offer collection from the school as well as a cooked meal for each child. During our after-school service, children will be supervised by qualified childcare workers, who can help with homework and encourage play and activities for a fun, positive, and socially stimulating after-school experience.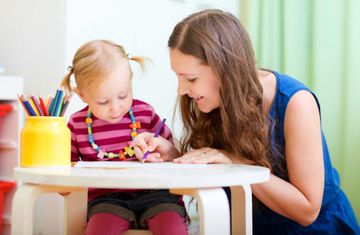 Our Team
Kids Kottage employs a team of highly knowledgeable and experienced childcare workers who are passionate about caring for your children. All of our team members are qualified to work in childcare, with all holding Level 8 degrees in their relevant childcare fields. We encourage personal growth, one to one communication, positive encouragement, and plenty of play in our childcare facility to help your little ones grow and develop.
For more information on our full Westmeath Pre-School, After-School, or Day-Care Services, get in touch
Implementing the Aistear Siolta Framework
Here at Kids Kottage, we implement the Aistear Siolta framework in our Westmeath pre-school. This curriculum has been proven to develop children's educational skills while simultaneously weaving play and socialisation into all things we do.
Inclusivity & Socialisation at the Heart of All We Do
The team at Kids Kottage are passionate about providing a positive social experience for all children in our care. Inclusivity, play, and socialisation is at the heart of everything that we do, offering an open, comfortable, and fun environment for children of all ages to enjoy.
Fully Trained & Qualified Childcare & Teaching Team
From our Westmeath pre-school to our after-school care services, all day-care and educational services offered by Kids Kottage are ran by a team of passionate and kind childcare workers with all relevant training and qualifications.
Kids Kottage FAQ
Where can I find a pre-school near me?

Kids Kottage is a Westmeath pre-school offering pre-school education services to children aged 2 to 5.

What is the ECCE scheme?

The ECCE scheme, or Early Childhood Care & Education Scheme, is a scheme providing early childhood care and education for free for children from the age of 2 years and 8 months. Kids Kottage takes part in this scheme.

What age should I send my child to pre-school at?

This is completely dependent on how you feel and how you feel your child would cope with pre-school. Most children begin pre-school at around 3 years old, but this can often be younger or older for some families. If you need advice on the best age to send your child to pre-school, contact Kids Kottage today for advice.